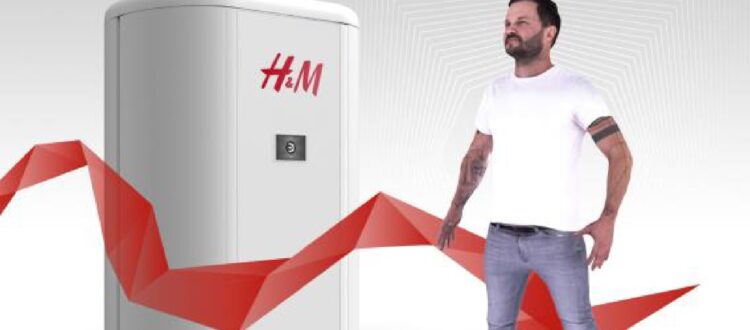 World Premiere at Berlin Fashion Week: H&M announces collaboration with NeXR Technologies SE at Wear It Live's FashionTech conference
On Thursday 21st of January 2021, the 10th edition of the online event series Wear It Live took place targeting the topic of "Fashiontech". More than 400 people from all over the world signed up for this interactive conference, which took place as part of the Berlin Fashion Week. As a highlight, Oliver Lange – Head of H&Mbeyond -announced their new collaboration with NeXR Technologies SE, and Antje Hundhausen, Vice President Brand Experience at Deutsche Telekom, gave thrilling insights on their brand new Heatable Capsule Collection they developed with AlphaTauri and Schoeller.
The conference was organized by Wear It Berlin: a Berlin-based agency and leading conference and platform for professionals in the wearable technology business.
Last week, more than 400 international experts and fashion and technology professionals signed up for Wear It Berlin´s latest event to discuss the exciting future of the rapidly rising FashionTech industry. The event kicked off with a high-level panel discussion, followed by ten pitches and three networking sessions hosted by the EU-funded Re-FREAM project based inGermany, Spain, and Austria.
The panel was moderated by Thomas Gnahm, CEO of Wear It Berlin GmbH, who opened the floor to an exceptional speaker lineup:
Antje Hundhausen: Vice President of Brand Experience at Deutsche Telekom, gave insights on the possible future role of Deutsche Telekom AG to be the enabler of a new industry that is currently in development. According to Antje , the services and new applications in tech-enabled fashion have a strong demand for IoT solutions and 5G connectivity.
Oliver Lange: Head of H&Mbeyond, outlined how a collaboration between a major global brand such as H&M and start-ups successfully works, and provided a detailed discussion of challenges and opportunities. Oliver also gave brand-new insights on the near term marketing strategies of H&M for their soon to be announced sports tech lineup, and announced a new collaboration with the start-up NeXR Technologies SE.
Charlotte Kjellander: Head of Wearable Electronics Group at Holst Centre showcased how the latest and greatest technology is being implemented in fashion and what challenges they are currently addressing, including washability and scaling of production.
Groundbreaking Announcement by H&M
There was even more excitement when Antje Hundhausen and Oliver Lange presented their latest innovations, and the audience were treated to exclusive, first-hand insights into these cutting-edge projects. Antje presented Deutsche Telekom's latest innovation: their Heatable Capsule Collection, which is an exclusive partnership with AlphaTauri and Schoeller. As a world premiere Oliver announced H&Mbeyond's groundbreaking partnership with NeXR Technologies SE: a Berlin-based virtual reality pioneer. Through this partnership, they are developing a virtual fitting solution – a "digital fitting room" – where shoppers can virtually try on items of clothing.
There were no surprises when each of our panellists emphasised Berlin's central role in freedom and innovation. Berlin is renowned for being a place where entrepreneurs and curious minds can strategise, collaborate, and create. In the words of Oliver, "Berlin is the playground where magic can happen and everyone is interested in creating something". Here at Wear It Berlin, we couldn't agree more.
FashionTech's thriving start-up scene
In addition to these massive brands, the audience also engaged with a diverse group of trailblazing start-ups and entrepreneurial ventures in FashionTech. This was a fast-paced segment where representatives introduced their innovation, which tackled complex and pressing challenges across environmental, social, business, and health needs.
For example, Presize joined us to demonstrate their use of artificial intelligence to find your perfect clothing fit, just by using your smartphone's camera. It doesn't just aim to make shoppers and businesses happy, but to reduce the waste and energy consumption from when shoppers return clothes that don't fit.
Start-up LUMEO Tech discussed that while there are many innovations in the wearable technology market, companies struggle with how users should actually wear them on or close to their body. They introduced their LUMEO LOOP, that makes it possible to attach anything on any fabric. The innovation does not damage fabrics, and can support appropriate amounts of weight.
Breakout Sessions
Re-FREAM is a fashion innovation research project supported by the European Union's Horizon 2020 research and innovation programme. Presenting six of their FashionTech artists and hosting three break out sessions, the project invited artists and designers to connect with scientists on common ground to rethink the fashion industry's manufacturing process.
The event was supported by our partners Projekt Zukunft and Berlin Fashion Week as well as the Re-FREAM project by the European Union's Horizon 2020 research and innovation programme.
Event Page:
Visit our Press Section