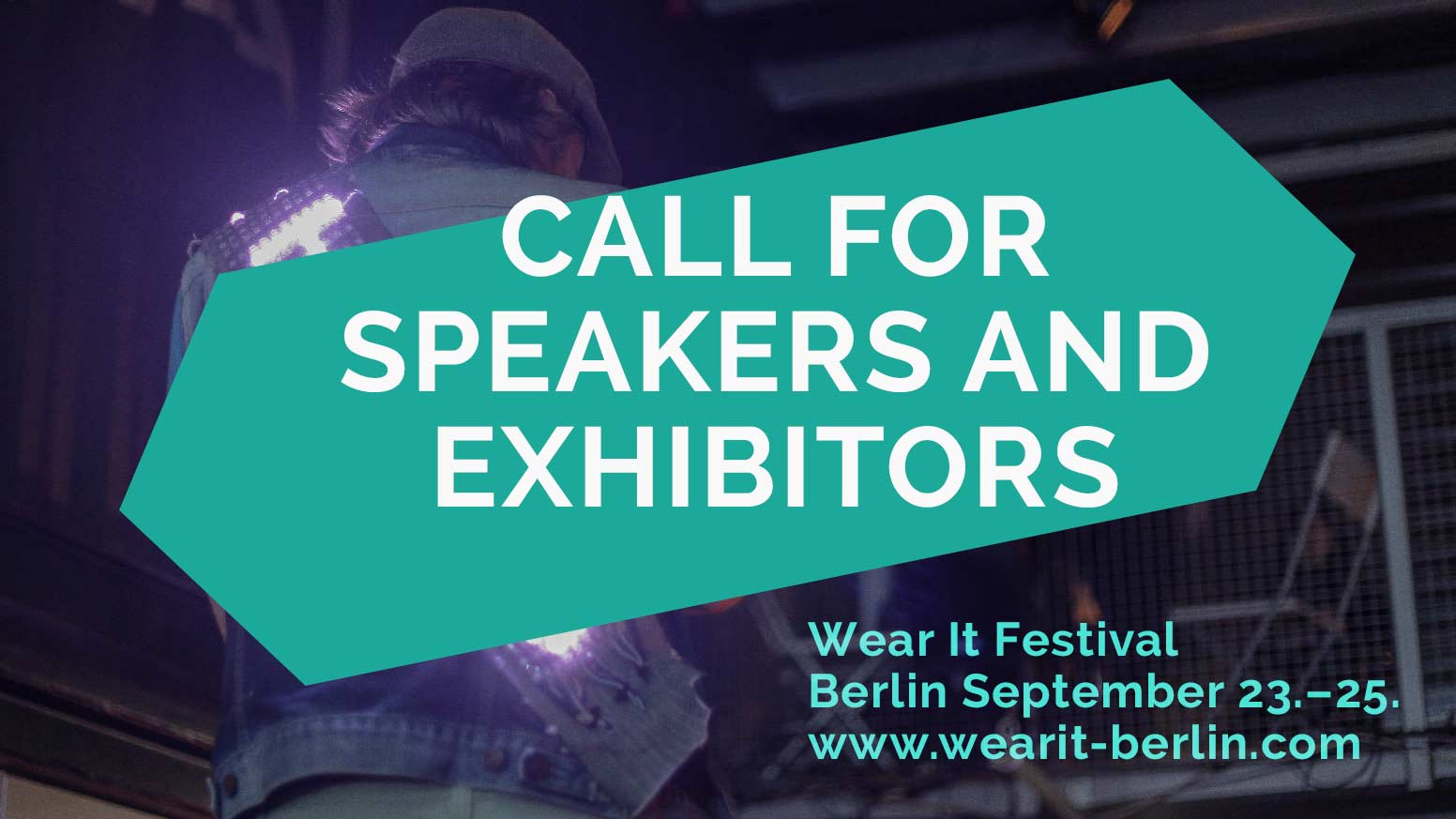 Call for participation "Wear It Festival" Berlin Septrmber 24th–25th
We are happy to announce the open call for speakers, artists and exhibitors around wearable electronics and tech-textiles for the second Wear It Festival, September 24th – 25th in Berlin.
The Wear It Festival establishes an international forum for the dissemination of novel hightech on the interplay between fashion, interaction design and wearable technology. The event will be attended by industry, academia, design, and art experts while featuring keynote speakers, product presentations, exhibitions, performances, workshops and a pop up store. The Wear It Festival combines a relaxed atmosphere and enthusiasm with professionalism.
Our three main topics are:
Fashion and Lifestyle
Fitness and Health
IOT and Connected Life
Wear It is a growing community pushing the limits of wearable technology by connecting creators and industries. Through collaborative research and development, skills and knowledge transfer, Wear It is driving innovation regarding practical development and creative use of wearable technologies. It is recognised as a national and international resource for creative solutions in fashion, media and technological industries.
Are you working/researching in the fields of:

wearable electronics
tech-textiles
smart textiles and flexible electronics
fashion technology
computational fashion
click here to download the proposal pdf
Let us know how you want to contribute to this year's Festival and send us your application.
Form of participation:
symposium talk (10 or 25 minutes talk)
moderate a panel discussion (propose about 3 participators, please outline the topic for discussion, key questions and a session title)
exhibition & product presentation (show your work and take part in the lightning pitch of 5-10 minutes)
performance (dancers, musicians artists of all kinds are welcome)
sell at the pop up store (ready to wear fashion or wearable tech products)
run a workshop (7 hours or 10-30 minutes workshop formats available)
Concerning industry, we are working with companies that are interested in technological progress, fresh ideas and new paradigms, searching today's creative minds and wish to launch new products or else test software/hardware in workshops.
In terms of intellectual and artistic content, we are looking for highquality abstracts and artworks that introduce new ideas to the field and stimulate future trends or findings that summarise effectively the state-of-the art. In addition to the core topics of fashion design and creativity, we encourage submissions from all areas related to wearable electronics or tech-textiles.
You can use our online form to apply for participation
Organising Team
The Wear It Festival 2015 is organized by an interdisciplinary team of pioneers working in the field of wearable electronics.
Our partners are Fraunhofer Institut IZM, UDK/Design Research Lab, Bauhaus Universität Weimar/HCI, International Year of Light 2015, Projekt Zukunft der Senatsverwaltung Stadt Berlin, Decoded Fashion, Maker Fair Berlin, Geekettes, FabLab.Berlin, IXDS, WT Wearable Technologie, re:publica15 and Smarttex Netzwerk, make magazine and golem.de
Do you have questions? Don't hesitate to get in touch with us: hi@wearit-berlin.com